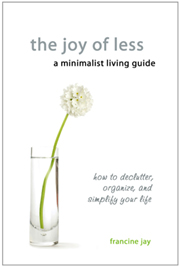 I downloaded Miss Minimalist's book The Joy of Less, A Minimalist Living Guide on my Kindle before I went to the creepy north. In between walking during the day and hyperventilating from fear at night, I read her book all the way through. Yes. It was that good. I even put aside The Girl With the Dragon Tattoo for it. Which, by the way, was excellent, but I'm very partial to Swedish mysteries and police procedurals. Anyway, if there is one minimalist book that focuses on actual minimalization of your belongings rather than lifestyle changes oriented towards roaming, computer savvy singletons, this is IT. End of review.
    No, I jest, but that is how I feel about it. I won't deny that I bought it with some trepidation. I have enjoyed the Miss Minimalist blog almost since the beginning, so I am familiar with Francine Jay's writing. Despite that, I was wondering what anyone could have to say about minimalism that hasn't already been splattered all over the internet. I was hoping for something along the lines of an instruction manual on getting rid of possessions. Well, it delivered in a big way.
    The Joy of Less is a a comprehensive and detailed guide to ridding one's self  of unwanted stuff. If you are already firmly on the path to minimalism, do you need this book? Probably not. I don't think I need it. I think that without it I would have, sometime in the future, arrived at my minimalist end point. It would have been  much, much further in the future. And it might have involved frustrated tears. With this book I can forgo, if you'll forgive the hiking analogy, the trail riddled with switchbacks and just take the straight path directly to minimalism. Instead of me finding what works through trial and error, I can simply implement her suggestions, tweaking them to suit my family. Not starting at zero is invaluable. Unless, of course, you are the kind of person who when they make bread, likes to start by growing their own wheat. Heh.  I will happily be taking the shortcut. This book will save you a lot of headaches in figuring out the best physical way to declutter, motivational techniques to spur on giving away difficult items, and the easiest way to keep it minimal once you are finished.
    There are several suggestions in this book that had not occurred to me before. The beginning step in her STREAMLINE method is "start over." She wants you to take absolutely every last thing out of the area you want to declutter, whether you are doing an entire room or just a drawer. At first I was shocked and dismissive, thinking that was going way overboard. Then I started thinking more about it and I realized that the reason I've had to declutter my entire house 4 times already (and there is still more to go) is that I pick out what I don't want rather than question each item as I put it back. My way has worked because each time I do it there is less, but by "starting over," your first big decluttering may very well be your last. It's very effective.
    Other nifty ideas were to actually talk to your items: Why do I have you? What do you do for me? Do you beautify and/or enrich my space? When you do that it makes it harder to just put something back just because you don't feel like dealing with it now. I also love the concept of "modules" for everything belonging to the same category or activity. I thought I was doing this already, but when I looked around my house I realized I really wasn't. For minimal maintenance she employs the one in/one out method along with placing limits on all the possessions you have, such as 10 pairs of pants, 50 books, etc. But Miss Minimalist really won my heart when she said it was a good idea to label things. I've been a secret label-er since I was a kid, but I've always restrained myself from labeling the kitchen cabinets or dresser drawers because I was afraid people would think I was totally weird. I'm not sure why I was worried about that since people already feel that way about me. Anyhow, I've long felt that labelling was a good tool, and now I feel validated to go ahead and label everything in the house. 
     This is the guide to get unless you're already at your comfort level and are able to keep it there. It's practical and hands on. There are solutions for all kinds of minimalists. Even though I gather from the Miss Minimalist blog that she lives a fairly extreme minimalism, there is no pressure to become what you are not. Which brings me me to the point that this book, if you follow it, will absolutely change your lifestyle in terms of how  you view  your possessions. It is pretty amazing. As long as you have the desire to pare down, you'll find something of use in The Joy of Less.
(I suppose I should mention that I wasn't paid or asked to write this, I just thought you guys might like to hear how much I liked this book :)